The Skills Gap Tutorial
This is a very rare opportunity for you to experience what others will pay a lot of money for. I hope you are able to take advantage of this free tutorial.
Companies ar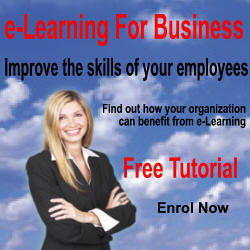 e spending millions of dollars each year on Bridging The Skills Gap and very few are getting any results! You might even be one of them. Maybe you've tried the different training methods or one of the other training technologies out there with little success.
With this Free On-Line Tutorial you will learn how use E-Learning For Business to improve the skills of your employees and raise the performance of your business.
Would you like to learn from someone who has had over 30 years of experience in the training and education business. Honest straight forward techniques to get you started easily. Learn the latest trade secrets needed to Benefit From eLearning.
The tutorial will be sent to your e-mail address in regular instalments.
Course Closed To New Students
To help stop the e-mails being seen as spam please add elearning@trainerr.com to your address book
Are you constantly looking to recruit new staff and over looking the potential already within your organisation? Providing the training and qualifications to support your employees skills development used to be difficult and required a huge investment. Not so now. The tutorial will discuss Computer Based training, Distant Learning and In Process learning. We are backed by a team of UK based companies with many years of experience in bringing the latest learning techniques to individuals and organisations, together we have developed an online tutorial to help you implement new learning strategies for your staff.